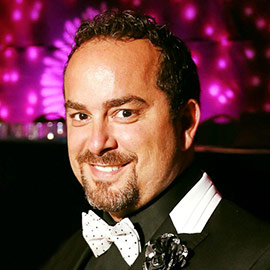 TOMMY DITOMMASO
Chairman of Judges
Tommy DiTommaso began dancing at the age of 11, under the tutelage of ten time US T10-Dance Champion, Mr. Larry Silver. His secondary coaches were no less legendary, including Alex Lazo, a two time US 9-Dance Champion, Jean Marc Generoux & Franze Mousoux, five time Canadian Latin Champions and 5 time Canadian 10-Dance Champions, Rufus Dustin, a US Theatrical Champion and US Smooth/Rhythm/Latin Champion, Michelle Mason, a US Broom Champion, David Hamilton, a US Smooth Champion, and Bob Powers, a US Rhythm Champion. With Tommy's natural talent and unparalleled work ethic, he quickly moved his way up in the ballroom world.
 He began competing at the age of 12, gaining recognition everywhere he danced. By the age of 15, Tommy was so accomplished that he became an instructor at the renowned Larry Silvers Dance Academy. It was during this period that he began competing on a National stage.
Mr. DiTommaso made a name for himself, winning the following Championships and Titles:
Two time US Junior Amateur Latin Champion
US Amateur Grand Champion Finalist
Heritage Classic Rising Star Latin Finalist
Texas Challenge Rising Star Latin Finalist
Rising Star Finalist in every major ballroom dance competition held in the US
Us Rising Star Finalist in American Rhythm
Florida State Open Rhythm Champion
Gator Classic Open Rhythm Champion
Millennium Open Rhythm Finalist
Philladelphia Open Rhythm Finalist
First Coast Classic Open Rhythm Finalist
Heritage Classic Open Rhythm Finalist
Hotlanta Open Rhythm Finalist
Atlanta Open Open Rhythm Finalist
These are but a few of the multitudes of awards Mr. DiTommaso has accrued over the years.
Mr. DiTommaso founded the famed Florida Dance Classic Series, organizes ballroom dance cruises through Elegant Adventures with his business partner, Michael Luciano, and is a highly sought after competition judge and adjudicator.