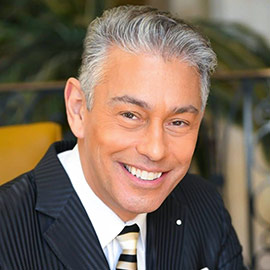 TONY PRADO
Emcee
Tony Prado is best described as well-rounded.  His experience includes over 3,500 television newscasts as international reporter, anchor and director.
He has over 40 years of public speaking experience and is a prize winning ballroom dancer with eleven Top Teacher Awards and more than a dozen Top Studio Awards; certified "Highly Commended" as a Ballroom Dance judge.
He took on a new hobby of ballroom dancing at age 29.  For the next several years he trained in all aspects of dance and human movement drawing on his prior training in pantomime.  As a ballroom dancer, he designed and built three dance studios over an 18 year career while  traveling the world teaching and competing in the Cabaret/Exhibition division of DanceSport.
In that time, he was winner of eleven Top Instructor Awards and fifteen Top Studio Awards.  In 2005 he became a United States Cabaret Finalist.  The same year he was certified Highly Commended by the United States Terpsichore Association and received his Adjudicator's License.
Currently at Queen City Ballroom in Charlotte NC, Tony has achieved the level of DVIDA Master Examiner.  He continues to host weekly parties acting as DJ.  He travels across the U.S. and internationally as emcee for DanceSport events and prides himself for being the first person to emcee a dance competition in both English and Spanish.  Being conversant in five languages, Tony considers himself a well-rounded problem solver who is ready to handle any situation with the diplomacy and expertise of a distinguished gentleman.
Visit Tony's website to find out more: http://tonyprado.com/